Welcome to Homeschooling Saturday, week six! Homeschooling Saturday is a recap of our favorite craft(s) or activity we've done in the past couple of weeks.
This week, we've been busy making advent calenders. Why buy when you can make ones that are beautiful and meaningful with things you've already got around the home?
We made this beautiful Mary and baby Jesus:
template provided
, and instead of using that to trace, deleted the labels on everything and printed those out to color. Then I copied and pasted the stars into one document and I used those for my calender, the kids are just using star stickers.
http://nantucketknitter.com/pdf/stars1.pdf
.
Everyone painted whatever background they wanted onto poster-board:
http://www.thatartistwoman.org
We're also working on a funky tree calender:
I am mostly using super inexpensive (cheap) things like mini candy canes, plastic ornaments and small chocolate bears, but for a few of them I did little things of princess chap-stick (Little M gets super chapped lips in the winter, so we always have a bunch of them) and bangles. On the 24th, I put in Cinderella nail polish.
I have no idea where this feminine little girl came from, she certainly didn't get it from me!
The idea for this one came from Etsy:
https://www.etsy.com/blog/en/2010/make-a-geometric-tree-advent-calendar/
.
That was what we did this week. What did you all do for homeschool this week?
**********
I have decided to make this into a Linky Party! Please link up to Homeschooling Saturday with anything at all to do with homeschooling you and your little ones did this week! If you want, awesome. If no one wants, no problem!
If you do decide to link up, please just link back from your post to this post! You can use this picture if you want: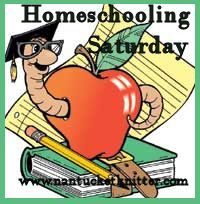 Use this code:

<div align="center"><a href="http://www.nantucketknitter.com" title="Homeschooling Saturday"><img src="http://i22.photobucket.com/albums/b334/Cimorenne/homeschoollinky_zps0187c99d.jpg" alt="Nantucket Knitter" style="border:none;" /></a></div>
**********